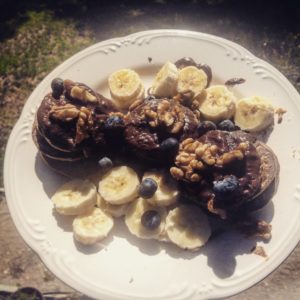 Ingredients:
1.5 cups Oatmeal
1 cup Almondmilk or Coconutmilk
1 ripe Banana
Directions:
Blend Oatmeal in blender, blend til it is a flour consistency. Once you have the consistency you like, add in the Almondmilk or Coconutmilk and Banana in blender. Process til it becomes a smooth batter.
Use a non-stick pan or use coconut oil for pan. Flip when you see the bubbles/browning.
And you have pancakes!
Toppings/Decor:
Chocolate Sauce- blend 3 dates (pitted, soaked for easier blending), 1 tbsp cacao/cocoa powder, 1-4 tbsp water to adjust consistency.
Banana slices
Coconut flakes
Walnuts
Blueberries
etc